I am not going to prom this year, but since it is coming closer, I thought it would be a fun idea to show you what I would want to wear to prom. I found this incredible dress at J. Crew. The funny thing is that before I had seen this dress, I had designed one that I wanted. (It looked almost
exactly
like this one!) And then I found this;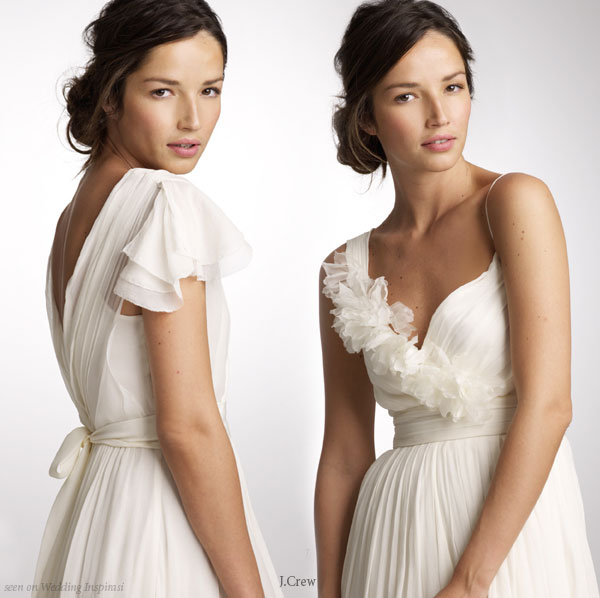 I wanted a floor length dress. Check. Either cream or white. Check. I wanted it to also have a simple Grecian look to it. Check. Now the dress I had envisioned was not a wedding dress, but this one is. I LOVE this dress, but I think I would want a fancier dress for my wedding. I think this one could easily pass for prom.
I would love to have my hair done something like this;
Or in an elegant bun with a simple
small
flower
(This is the only one I could find, the flower would need to be whiter and smaller, so that it would not take away from the ruffle/flowers on the dress.)
Either gold filigree earrings, or small pearls.
If the shoes were a little whiter (the rose) or the dress was a little creamier colored, I would say possibly these shoes. I think heels would probably be over the top. Simple flats would be good to. If these shoes were worn, I would not do the flower in the hair. That would be over doing it. (Wait, did I just say more flowers would be over doing it?!? Well they would, but I didn't think I would ever say that! ;)
I would also add a small clutch. I think that that would be plenty, so as it would not drown out the simplicity of the dress.
Feel free to leave me a comment telling about your prom experiences, and what you wore! It would also be fun to see some pictures!
XOXO